Fast-moving winds can suddenly whip dirt and debris into the air, leading to fatal accidents. It's an issue worsened by drought, climate change and land management.
The kind of dust storm that suddenly darkened an Illinois highway on Monday and left seven people dead is becoming more common in parts of the U.S., a phenomenon that some researchers say is far worse than generally recognized.
The Illinois storm caused a 72-car pileup after high winds whipped dust from recently tilled farms into a cloud that caked the insides of cars. At least 37 people were hospitalized.
Such storms often lead to accidents, many of them fatal. There is no definitive tracking of dust storm prevalence nationally, but a March study published by the Bulletin of the American Meteorological Society found 272 fatalities attributed to dust storms between 2007 and 2017.
"This problem is heavily underestimated, understudied and underreported," said co-author of the study Daniel Tong, a research scientist at the National Oceanic and Atmospheric Administration and an associate professor at George Mason University.
Dust storms are created when fast-moving winds kick up dirt and debris into the air, creating a dark swirling mass that can be difficult to see through or breath in. They become particularly dangerous over roadways and can obstruct a driver's vision. The advice from authorities and car safety groups like AAA is to pull off the roadway entirely when this happens, turn off the lights to avoid having others follow you in the darkness, and buckle your seat belt until it passes.
Drought, climate change and land management practices are making dust storms more prevalent in some U.S. regions, like the Southwest. One study found that the frequency of large dust storms in the Southwest more than doubled from 1990 to 2011.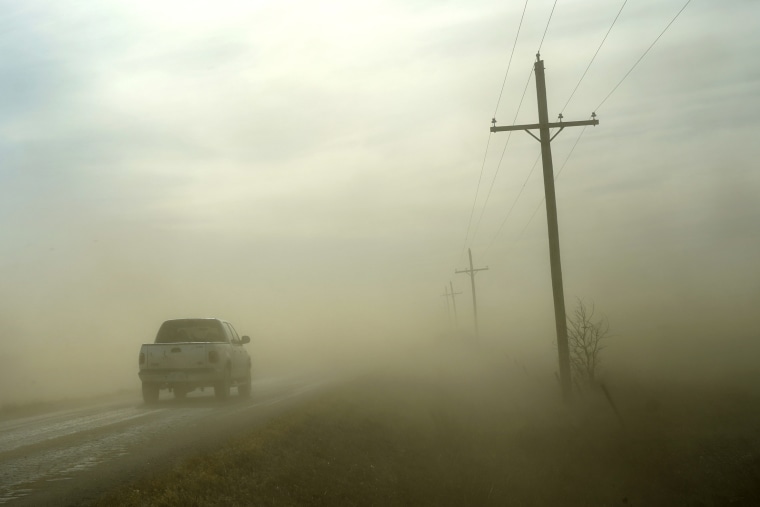 More rainfall could be a factor decreasing risk in some areas, like the eastern U.S., but experts said flash droughts and heavy agricultural use mean that localized dust storms can swirl with little notice in these places and surprise drivers unfamiliar with these storms' hazard.
"A dust storm is not only a weather phenomenon in the desert, it can happen anywhere in the country," Tong said. "It can come from a farm, it can come from a school playground, even people's backyards. If the land is not covered by vegetation and there's a strong wind, that can be a dust storm."
The states with frequent dust storms and the largest number of deaths are Texas, New Mexico, Arizona and California, according to the Meteorological Society report. Illinois was an outlier. The state counted only two dust fatalities — both in 2017.
"We had a prolonged event of dry warm weather for early April that dried off our top soil down to eight inches — dried it to dust," said Trent Ford, the Illinois State Climatologist. "But the bottom layer retained moisture and Monday's really strong winds made the top layer airborne. It was really an unfortunate location along one of the busiest highways."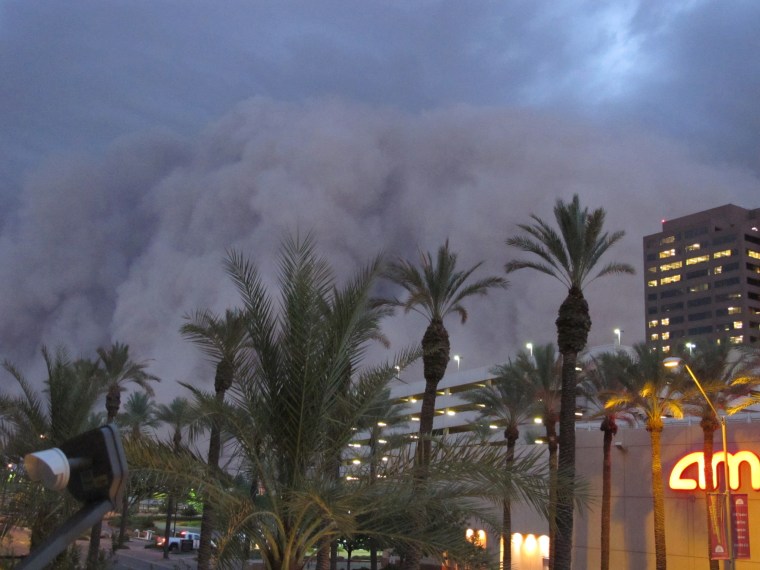 Tom Gill, a professor in the environmental science and engineering program at the University of Texas at El Paso, said the key ingredients for dust are typically drought, land disturbance and wind.
Farm fields without irrigation are a common source of dust storms.
Ford said he didn't think climate change was necessarily a factor in Monday's crash, as it had largely driven wetter planting seasons and flooding in Illinois. But he said land management issues were a particular problem in Illinois and could have contributed to the issue. He did note that climate change was certainly a factor for dust storms in the West, where they predominantly occur.
Shrinking or empty lakes in Western states have been significant contributors of dust pollution.
Last fall, the Great Salt Lake's water levels fell to its lowest on record, exposing much of the lakebed and creating conditions for storms of dust — laden with toxic metals — that now threaten the 2 million people living nearby.
In California, Los Angeles Department of Water and Power ratepayers have spent at least $2.5 billion controlling dust emissions at Owens Lake, which was drained by the utility and was once the largest human-caused source of dust in the U.S.
Dust can have health consequences. Exposure to dust particles can cause respiratory disease, cardiovascular issues and fungal infections. Dust can carry heavy metals and other toxins into people's homes and lungs. Any dust-related deaths caused by disease or infection were not included in the Bulletin of the American Meteorological Society study.
"If you breathe particles of stuff in the air and it gets into your respiratory tract, in your lungs, it's going to cause irritation whether it's toxic or not," Gill said. "It adds to the burden of air pollution."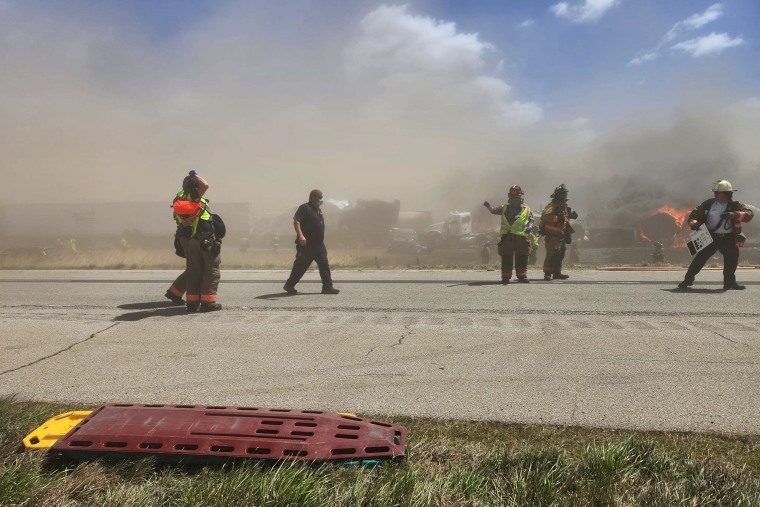 While dust storms are becoming more prevalent in the Southwest, other regions will likely experience fewer dust storms as overall precipitation continues to increase. But a threat could still exist. Gill and other researchers are concerned about the impact of flash droughts — when extreme temperatures rapidly parch the landscape during periods of variability — and how those patterns could affect areas of the U.S. that are more wet, in general, and have heavy agricultural use.
Dust storms have been responsible for other fatal highway pileups. According to Tong's research, there were six such crashes involving semi-trucks between 2007 and 2017 with five occurring in New Mexico and Arizona along two stretches of Interstate 10.
States have addressed the storms along that corridor with dust mitigation efforts, something more states should undertake, Tong said.
"Now is the time to think about adopting some new land management and air quality measures that have been in practice in some Western states," he said. "For example, we need to consider air quality and health impacts of agricultural tilling. When you till, you should observe weather forecasts and maybe consult some experts about the proper time and check whether the land is very dry."